The Story of the Origins of Azerbaijani Dances
Part I The Shamakhi Bayaderes. By Alima Chichibabina Azerbaijan is a unique Muslim country, where dancing arts made a long way from shamanic rituals to pro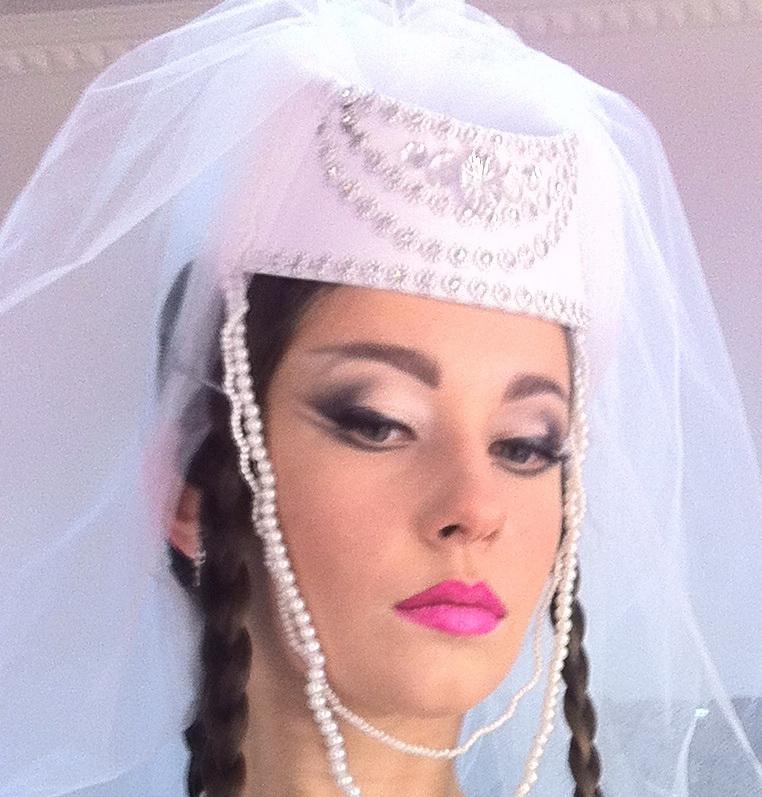 Part I The Shamakhi Bayaderes.
By Alima Chichibabina
Azerbaijan is a unique Muslim country, where dancing arts made a long way from shamanic rituals to professional stage performances and developed academic school, which keeps growing high level professionals of choreography since the beginning of 20th century.
Nowadays we can be witnesses of the fact, that national dances in this country are represented at the academic stage and in the everyday life simultaneously. Unfortunately, more often a high academic level of folk dances means that among nation's own, dance is dead or forced out by contemporary arts. But here any kind of celebration could not be imagined without rhythmical improvisation accompanied by semi electronic folk music. At the same time, soloists of the National dancing ensemble of Azerbaijan are real idols of their people.
Where should we search an answer for the question: how did it happen, that Azerbaijani people became one of the first ones among other Muslim nations, who presented to the World first national ballet and grow up probably first professional ballerina from Muslim family? Which factors pushed them to this? The answers are in the history and geography.
Brief overview of history and location of this country can provide retrospective of origin and formation of Azerbaijani dancing arts. The territory of contemporary state since Antic ages was located between East and West. Different parts of nowadays lands were belonging to the great empires of foretime. As well, local antique independent states like Manna, Scythian Kingdom and Caucasian Albania were appearing, fighting with powerful conquerors and finally vanishing from pages of Wolds's history. In this surrounding Azerbaijani culture mostly was under significant influence of mighty neighbors at the same time keeping essence of own traditions.
World's well-known thousands years old phenomena of rock carvings from Gobustan caves, which depict ritual dances, says how much this part of life was significant for Azerbaijani ancestors.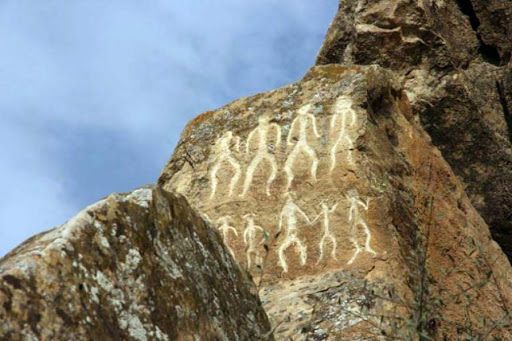 In Muslim society attitude to dance never was a simple issue. In particular, a question of female performances even nowadays can be complicated. Like among other Eastern countries until 20th century women were not dancing or singing at any kind of public entertainment. But this fact refers mostly to the city life. In villages folk arts were kept in more natural tribal surrounding, so celebration of any holyday was not so much separated into performers and audience, better to say that everyone was a participant. These celebrations were either gender-mixed or separated into "selam" - male and "haram" - female groups. A lot of nowadays well-known types of female dances derive from closed to the male eyes woman's gatherings. In the haram part of celebration they were free to express themselves in singing, playing music, dancing and, of course, keeping folk rituals according to each holyday. Other sources of national dance were Khan's harem court performers and later private entertainment groups of musicians and dancers, similarly, as in many other European and Asian states. According to our contemporary understanding, they were high level professionals of performing arts.
After Caucasian Albania lost own independence, contemporary Azerbaijani lands were separated in several semi-autonomous Khanates. Main part of their history was spent under Persian hegemony. Multiple examples of Persian culture could be found in such arts as architecture, literature, painting and, of course, in the performing arts. But since ХVІ century those lands started to be an arena of confrontation between Ottoman and Persian Empires. In XIXth century after Ottomans lost Transcaucasian lands in a result of Crimean war and Qajars day by day were losing their power, a new player appeared on the East – The Russian Empire. Searching for the own access to India and new lands rich in fuel, Russians brought to coast of the Caspian Sea not only oil rigs and technology, but also the wind of Western culture. Since those days Eastern Azerbaijani people started to absorb European trends and to search the way of integration into worldwide art community.
XIXth century and Era of Modern were still Eurocentric, due to this fact, any kind of non-Western art was in a need to adopt its content according to European standards of shape for been accepted among not only native audience. On the other hand, we can see the Orientalism a well-known tendency of Western arts, especially flourished during Era of Modern. Discovering new lands witnessing distinct life style, listening eastern legends, tales and parables, Western artists were fascinated by them and in consequence got a new source of ideas and plots.
In Orientalism tendency Azerbaijani culture, and even wider - Caucasian image, became an integral part of masterpieces created by well-known Classical Russian writers. Prose and poetry of Alexander Pushkin, Mikhail Lermontov, Lev Tolstoy accurately depict us everyday life and traditions of different Caucasian peoples referred to XIXth century times.
We can see Orientalism influence came from Azerbaijan inside one of such outstanding masterpieces of classical Russian literature - the last fairy tale of Alexander Pushkin "The Tale of the Golden Cockerel". Based on the old Copts legend, in Pushkin interpretation we see depicted medieval Slavic kingdom and mysterious and treacherous Eastern beauty – the young Queen of Shamakha. This example shows us that Russian art elite figures of XIXth century were aware about impressive icon of a Transcaucasian woman.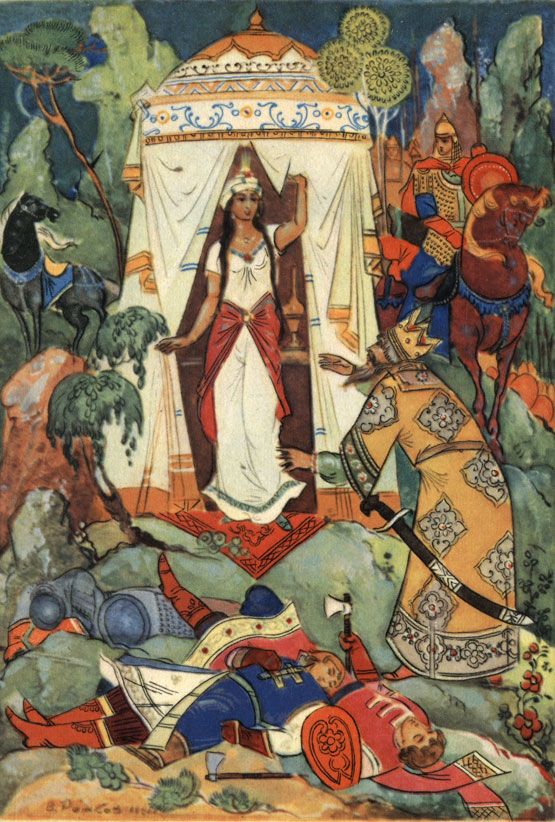 Most advantageous, this literary image came to St-Petersburg literary salons by tells about female performers of private artistic groups, which noble travelers were invited to watch in action while the ceremonial welcoming.
Hopefully for us, costumes and way of dancing of one of such groups were illustrated by Prince Grigory Gagarin in his album with illustration of Caucasian life. He spent years in the Caucasian mountains during war expedition and he portrayed in his splendid aquarelles different representatives of traditional Caucasian society in their native surrounding. Incidentally, he was a close friend of A. Pushkin and an author of illustrations to some of his books.
Almost ten years after Alexandre Dumas described same artists in his travel notes. Among other ladies, one especially impressed travelers, an incredibly charming dancer Nisa. Alexander Duma in his notes compared beauty of her face and outfit with excessive delight of the autumn flowers.
Due to Price Gagarin named his illustration as "Shamakhi Bayaderes" this name was fixed in culture. But unlike real "bayaderes" or "devadasi" in Hindu tradition, which were devoted to the temples, the Shamakhi dancers were representatives of the secular performing arts.
Nowadays ethnographers say that these groups were never performing on the streets; female artists were keeping their dignity and had a good reputation among the city community.
This kind of picture of folk Azerbaijani dancing culture Western world has seen in the XIXth century. Technical revolution and big social changes of XXth were approaching to each country, and along with new era, wind of change brought new standards, new opportunities and social requests, that will come to every nation which is intended to save and represent own culture at World`s spectrogram of Humankind diversity.
Bibliography
Керимов Э. Алиева М. Ими восхищался Дюма. Баку : IRS-Наследие, 2004. (№ 3). С. 22 – 23. Магмудлу Я. Азербайджан: короткі нариси історії. Київ, 2011. 152 с.
Рустамов. Д. Гобустан – очаг древней цивилизации. Баку, 2006. 19 с.
Мамедова И. Территориальные споры при определении границ между Росийской империей и Ираном 1813-1829 годы. Баку : IRS- Наследие, 2009. (№ 6). С. 10- 13.
Фараджева, М. Наскальное искусство Азербайджана. Баку : «Aspoliqraf», 2009. 384 с.
Published Date:
May 01, 2020
Updated Date:
December 02, 2023